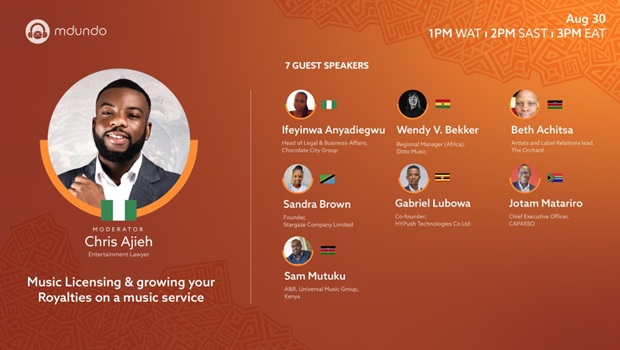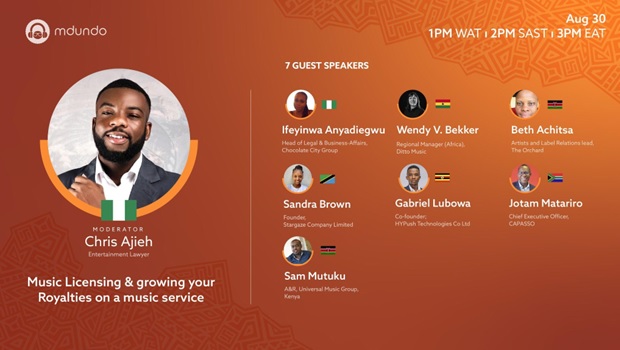 Are you a musician, record label owner, music executive, or talent manager or you're just keen to know what the music business is all about? Ever wondered how to make money with Mdundo? Then this event is for you.
The team at Mdundo will be hosting a discussion around Music Licensing and Royalties. The webinar will be led by; Ifeyinwa Anyadiegwu (Head of Legal & Business Affairs, Chocolate City group), Wendy Verwey Bekker (Regional Manager, Africa, Ditto Music), Beth Achitsa (Artists and Label Relations Lead, The Orchard), Sandra Brown (Founder, Stargaze Limited), Gabriel Lubowa (Co-founder, HYPush Technologies Co Ltd), Jotam Matariro (CEO, CAPASSO), Sam Mutuku (A&R Universal Music Group, Kenya) and will be moderated by Chris Jieh who is an Entertainment Lawyer.
Mdundo.com is an online mobile music service with over 20 million monthly active users and the company shares revenue with rights owners, record labels, and musicians for consumption of the music on the service. The company recently announce hitting $1 million in payouts to right owners.
The webinar is set to be held on 30th August 2022 at 3:00 PM (EAT) and 1:00 PM (WAT) and is open for all.
To register click HERE